Actualité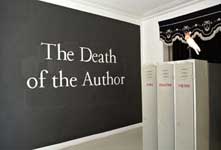 AKW - THE DEATH OF THE AUTHOR
April 19 > November 5, 2016
Galerie Pascal Polar
108 Ch. de Charleroi
1060 Bruxelles
www.pascalpolar.be
Tintin Reporter in Dresden
The Karl Waldmann Affair Emerald or the buzz of the sensational press!
Dresden, August 2015. The press accuses. An artist does not exist. Fiction. Scandal. Fraud. His works are removed from the Kunsthaus Museum. The thesis of fraud breaks in. Investigation. Criminal police. The case is a big headline. An artwork cannot exist without its author! Today the author is dead. In this funeral chapel you will find neither a coffin, nor tributes, nor biography, neither a chronology nor a catalog ... Just his work. Do not feel overwhelmed by the loss of the name and the stand. Analyze this staging, its content and message. When leaving you may have forgotten all you knew about art.
For more informations, click here.
---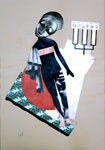 ARTIFICIAL FACTS – BOUNDARY OBJECTS
June 20 > September 20, 2015
Kunsthaus Dresden
Städtische Galerie für Gegenwartskunst
Rähnitzgasse 8
D-01097 Dresden
Germany
tel: +49 351 804 14 56
kunsthausdresden.de
With : Kader Attia (F/DZ), Künstlerkollektiv Burning Museum (ZA), Sammy Baloji (CD)/ Lazara Albear (CUB/B), Peju Layiwola (NG), Michelle Monareng (ZA), Paulo Nazareth (BRA), Lisl Ponger (A), Jorge Satorre (MEX), Penny Siopis (ZA), Dierk Schmidt (D), Karl Waldmann († D), Emma Wolukau-Wanambwa (GB/UG). Curator : Sophie Goltz (Hamburg/Berlin)
---

" PRESS ART "
April 21 > June 27, 2015
Galerie Pascal Polar
108 Ch. de Charleroi
1060 Bruxelles
www.pascalpolar.be
francais
Exposition de collages et photomontages que Karl Waldmann a réalisés sur des couvertures de livres, de revues et journaux.
english
Collages and photomontages that Karl Waldmann has realized with book covers, magazines and newspapers.


Video of the exhibition, click here
---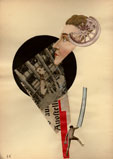 " SF: ART, SCIENCE ET FICTION "
november 18, 2012 - february 17, 2013
Curator: Denis Gielen


MAC's - Site du Grand Hornu
CONTEMPORARY ART MUSEUM
Rue Sainte-Louise, 32
7301 Hornu / Belgique
tel: +32(0)65 65 21 21
www.mac-s.be
francais
A l'occasion de son dixieme anniversaire, le MAC's (Musee des Arts Contemporains) consacre son exposition a la science-fiction.
La science-fiction n'a pas produit que des romans, des films, des magazines illustres ou des bandes-dessinees. Des ses debuts, elle a aussi nourri ou engendre indirectement des oeuvres dans le domaine des beaux-arts. Ce sont des peintures, des sculptures, des photos, des videos ou des actions qui, sans relever du genre S.F. au sens strict, sans en partager necessairement la culture populaire ou le kitsch, ont puise neanmoins dans son imaginaire pour en reprendre quelques-uns des principaux mythes.
S.F.[Art, science & fiction] a l'ambition d'explorer les liens entre les beaux-arts et la science-fiction. Elle presentera des lors des oeuvres et des documents relevant de courants esthetiques et de mouvements culturels divers: le visiteur y trouvera, par exemple, aussi bien des artistes modernes qui ont specule sur des concepts scientifiques comme la quatrieme dimension, que des artistes postmodernes ou contemporains qui revisitent des mythes populaires comme Superman.
english
On the occasion of its tenth anniversary, the MAC's (Contemporary Art Museum) devotes its exhibition to science-fiction.
Science-fiction did not product only novels, movies, fanzines or comic strips. From its beginning, it has indirectly nurtured and produced works in fine arts. Without necessarily sharing culture and kitsch, without belonging to the SF genre, those paintings, sculptures, photographies, videos and acts have drawn from its imagination in order to regain some of the main myths.
SF (Art, science & fiction) has the ambition to explore the links between fine arts and science-fiction. It will show works and documents coming under various aesthetic and cultural movements; the visitor will find, for example, either modern artists who have speculated on scientific concepts like the 4th dimension, or postmoderns or contemporary artists who have revisited popular myths like Superman.

LEWIS BALTZ, FRED BIESMANS, JACQUES CHARLIER, ANTON CORBIJN, EDITH DEKYNDT, LUCIO FONTANA DORA GARCIA, BRUNO GIRONCOLI, DOMINIQUE GONZALEZ-FOERSTER, JOAO MARIA GUSMAO & PEDRO PAIVA, PETER HUTCHINSON, ANN VERONICA JANSSENS, MIKE KELLEY, KASIMIR MALEVITCH, JOHN McCRACKEN, TONY OURSLER, KARL WALDMANN...
---
" COLLAGE "

L'Espace de l'Art Concret presente, dans la galerie du chateau de Mouans, l'exposition "Collage" qui propose de dresser un panorama de cette pratique apparue au XXe siecle.
Exposition du 01 juillet au 04 novembre 2012
Commissariat de l'exposition : Fabienne Fulcheri, assistee d'Alexandra Deslys
Artistes : Arthur Aeschebacher, Jean Arp, Denise Aubertin, Erwin Blumnfeld, Barbara Breitenfellner, Etienne Chambaud, Tatiana Echeverri - Fernandez, Hans Peter Feldmann, Mathew Hale, Raoul Hausmann, Adolf HoffmeiIster, Imi Knoebel, Arnaud Labelle-Rojoux, Nicolas Ledoux, Tatiana Longuine - Mouravieff, Gilles Mahe, Robert Motherwell, Julien Pascaud, Leon Tutundjian, Karl Waldmann, Jacob Whibley...
Fabienne Fulcheri est directrice de l'Espace de l'Art Concret a Mouans-Sartoux depuis fevrier 2010. Elle a ete en 2003 commissaire adjointe du Printemps de Septembre a Toulouse. Elle a conduit durant deux annees plusieurs projets pour le Pavillon, Laboratoire de creation du Palais de Tokyo. En 2007-2008, elle a organise une exposition a la Cite de l'Automobile, Musee national, Collection Schlumpf, a Mulhouse Pleins phares - Art contemporain & Automobile, et a ete responsable de la Programmation Satellite du Jeu de Paume. Elle a recemment concu l'exposition La Confusion des Sens pour l'Espace culturel Louis Vuitton a Paris.
Espace de l'art Concret - Centre d'art contemporain
Chateau de Mouans 06370 Mouans-Sartoux
04 93 75 71 50 / www.espacedelartconcret.fr
---
Fakes
Fakes of works by Karl Waldmann are starting to appear (see below). There seems to be one or several imitators producing these falsifications, including false signature of Waldmann. The works appear through different channels on the market ( ebay, ...)

Do not buy or sell works by Karl Waldmann without an authentification from the Waldmann Museum. You might end up with a fake problem. Gladly we will provide an expertise and authentification of every work and we will include the authentic works in the catalogue raisonne and provide a KW inventory number for it.
---
Faux
Depuis quelques temps apparaissent des falsifications, incluant une fausse signature de Waldmann, et cela sur les circuits habituels de ventes ( ebay, auctions houses, etc).

N'achetez pas ni ne vendez d'oeuvres de Karl Waldmann sans une authentification prealable du Musee Waldmann. Nous pouvons vous fournir une expertise et l'authentification de votre oeuvre et lui fournir un Nº d'inventaire afin qu'elle rejoigne le catalogue raisonne.
Click here to see a Fake
Click here to see a Fake
Click here to see a Fake